Sussex Students Renters' Union
---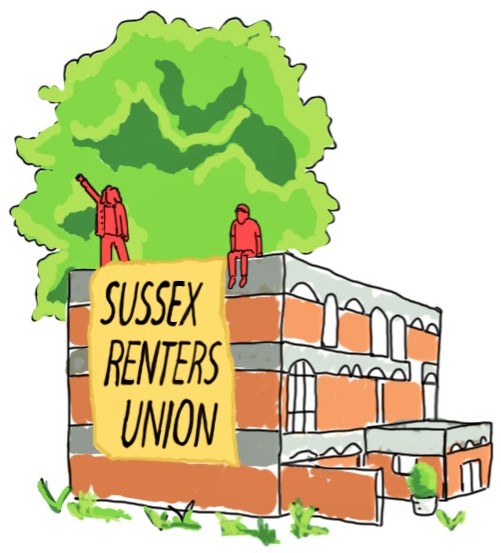 Life as a student often begins with overpriced, poor-quality student halls, and continues into the Brighton rental market with exploitative private landlords. This makes housing a huge concern for students, but it can often be confusing to know who to turn to when you have concerns, or what your rights are as a tenant. A Sussex Students Renters' Union is an exciting new initiative set up by SU officers and students campaigners to educate students on our rights as tenants, and organise for better living conditions. Fill in our survey to get involved.
As Sussex Renters' Union, we want to:
Bring students together to discuss issues faced as renters both on and off campus
Educate and train students on their rights as tenants
Organise around housing and estate issues on Sussex campus. Such as, cost of rent, COVID safety, and accessibility.
Work with Acorn Brighton to support students in private renting
Highlight the intersections between housing justice and climate justice in the city
And campaign on prominent housing issues in the city, such as affordability, accessibility and sustainability
Covid-19 is a massive concern for Sussex Renters' Union moving forwards.
We know that students across the UK are already facing campus lockdowns with little support from their University.
The cost of our rent is too high and we have been brought back to campus so that the University can keep this income. Whether you're in university accommodation or not, we want to set up a big mutual aid group of volunteers should an outbreak occur at Sussex.
We also want to come together and make a list of demands for the University that put student health first!
Get involved