Become a Race Equity Advocate >>
Combating institutional racism at Sussex and creating a learning environment in which Black, Asian and Minority Ethnic (BAME) students can thrive
Our Race Equity Advocates are Sussex students who are building a movement in Race Equality in our education system at Sussex by listening and building power and networks with BAME students. Race Equity Advocates convey the lived experience, needs and ideas of BAME students within their schools directly to their Head of School and school senior leadership teams to create change.
These are the schools that are currently taking part and their advocates:
Life Sciences
Global Studies
Education and Social Work
Law, Politics & Sociology
Media, Arts & Humanities
Business
Foundation
(See below for our contact details.)
The awarding gap
The awarding gap is the difference in outcomes between white and BAME students. Across the UK, BAME students are awarded lower degree outcomes than their white counterparts. The gap is different for each ethnicity with black students facing the largest gap. A Black student must achieve AAB in order to have the same chance of obtaining a first class or upper second class degree as a white student who achieved BCC.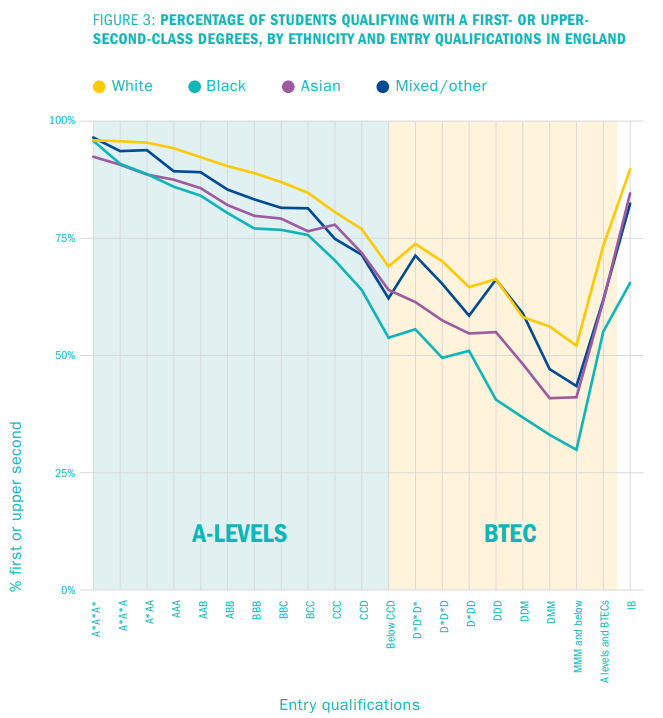 (Graph from the 2019 NUS: #Closingthegap Report)
Why are we seeing these gaps?
Many point to the deficit model to explain the gap, claiming that BAME students are more likely to come from a disadvantaged background and this must limit their capabilities. But just like white students, BAME students come from a wide range of classes and socioeconomic backgrounds. When income, area and entry grades are controlled for, the gap is still there.
Others will claim that BAME students do not integrate and are not as engaged with their degree as white students, Advance HE found that Black students had the highest level of engagement with their degrees than any other group and yet still face the worst outcomes.
Another popular excuse is that BAME students are less likely to speak english, this idea is reductionist at best, the majority of BAME students are fluent in english and a large proportion are born and raised in the UK. In the UK, black people have the second highest level of english language after white people.
The truth of the matter is that black and students of colour/ BAME students face institutional racism.
The very fabric of British culture is racist from its colonial roots, it's this culture that persists in higher education institutions. The NUS' #closingthegap Report has investigated this issue across 99 UK universities, some of the contributing factors were:
an unaccepting institutional culture and lack of belonging,
a scarcity of ethnic minorities amongst role models and staff,
non-inclusive curriculum content,
design and delivery,
an absence of information advice and guidance, and
insufficient preparedness for higher education.
Our programme
The advocate programme aims to tackle these factors by providing role models within the student body. Two advocates have been appointed from the six schools with the worst gap, as well as four advocates from foundation year. Each advocate is there to listen to and work with BAME students to convey the lived experience of BAME students within their schools directly to their Head of School to ensure that changes can be made at a local level.
The programme aims to combat institutional racism at Sussex and create a learning environment in which BAME students can thrive. The advocates will also lobby the university to improve their support systems that currently fail so many BAME students. The programme is managed within the Students Union to ensure dependent student voice by staff who identify within BAME subgroups and therefore have the lived experience, an understanding and knowledge of race equity work and are activists within the Race Equality movement all to ensure we can create safe spaces to raise the voice of BAME students. The programme has been modelled on a similar scheme run at Hertfordshire University which has been highly successful in improving BAME student experience and reducing the gap.
The scheme is funded by the university until the 18th of December as a part of their commitment to recognise, take institutional responsibility and reduce the Sussex Awarding Gap. It feeds into the Race Equality Charter, A sector wide initiative that aims to improve the representation, progression and success of minority ethnic staff and students within higher education. The programme is running in 6 schools and we are currently working with the university senior management team to explore how we can continue to be resourced and expand the scheme to cover all schools in the future, this will allow us to reach more Black and ethnic minority students across the University.
The more Black and Students of Colour we speak to, the more chance for change there will be. If you would like to speak to the Race Equity Advocate for your school about your experiences and/or would like to be a part of our movement in race equality, please send them an email and they will schedule a call with you. You can also fill in our contact form to sign up to our mailing list or have someone from the programme get in touch. If you don't feel comfortable speaking to an REA but would like to input, you can use our feedback form. We encourage you to speak to one of our REAs so that we can get to know you and fully understand the issues you face, build networks and empower you. Your conversations and feedback will be kept confidential.
Life Sciences
Global Studies
Education and Social Work
Law, Politics & Sociology
Media, Arts & Humanities
Business
Foundation Year
Programme Coordinator
Student Engagement Manager
---
Want to get more involved in anti-racist action with the Students' Union?
SARA: Sussex Anti-Racist ActionBAME Society
REA Social Media