Blog: Read Roseanne's round-up! (Jan- Feb edition)
---
Published on 23rd February 2021 at 10:00.
This article was originally published on Medium and you can find a link to the original below.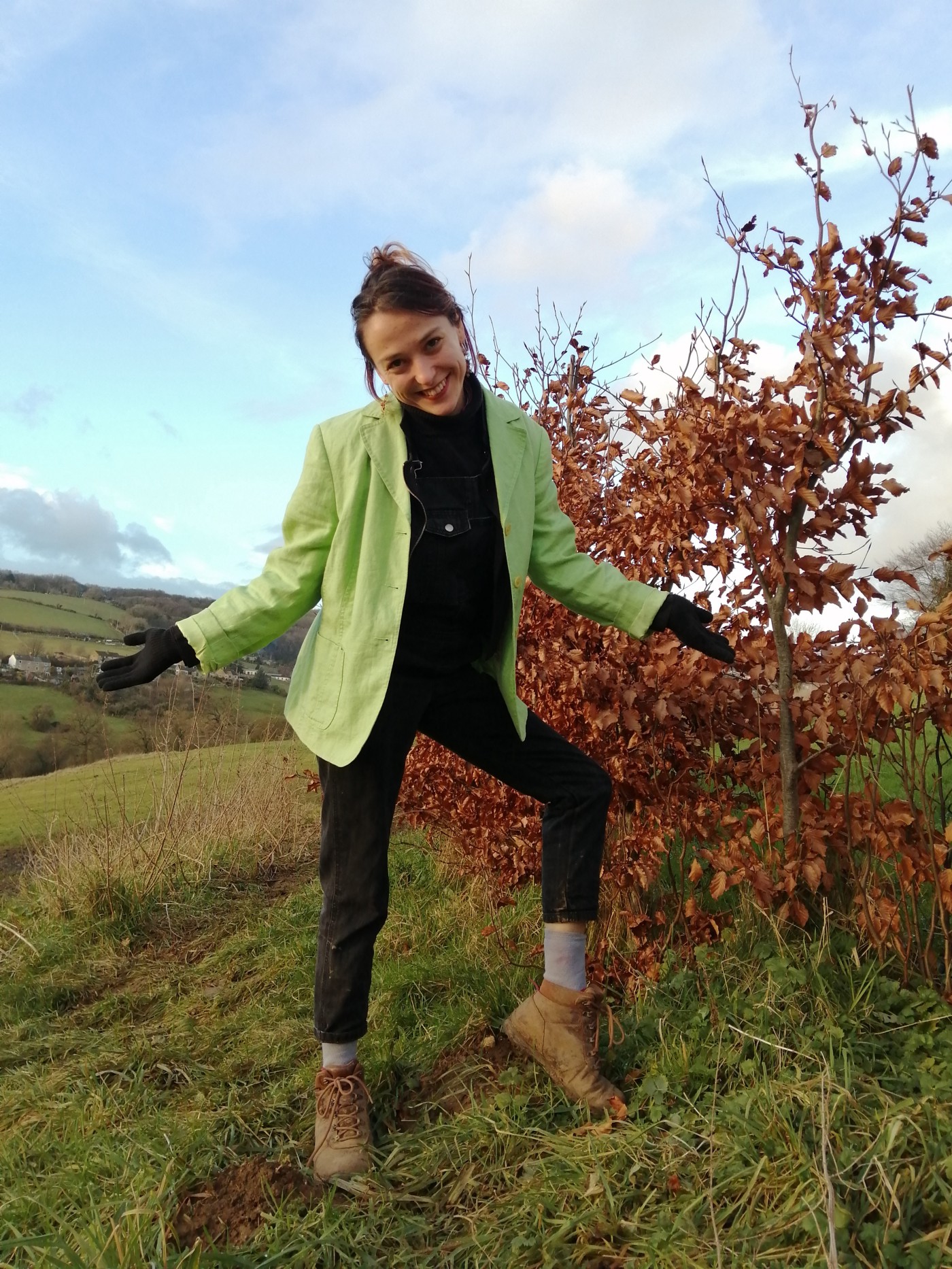 Picture above: Roseanne getting stupidly over-dressed for one her many daily walks (aka Groundhog day route)
Since the beginning of term, I've been working in my role as Student Living and Sustainability officer half days due to my Long Covid, which has been a bit of a balancing act and frustrating sometimes. Still, I've been trying to get better at managing my fatigue with a chart, and I've finally got into the habit of using it and not purposefully forgetting it in the garden so I don't have to fill it in… Working online within teams has been at times challenging, and it isn't easy distilling lots of video calls into a neat summary of what I've been up to. But I've highlighted a few of the projects that I've been taking forward this term. Please get in touch if you want to know more and or get involved with anything mentioned below (my email address is: [email protected]).
Taking a strong stance on issues that negatively affect students
Together with officers and Students Union staff, I have lobbied for the assessment mitigation measures to improve and reflect the distressing reality faced by students at the moment (see weekly updates and Save our Grades campaign). Recently, I have been sitting on academic misconduct panels, which is a legal obligation for the University to have student representation on. These can be really terrifying places for students, and I've been trying to bring assessment/plagiarism rules clarifications and transformative justice principles into the student representative position on these panels.
There has been concerns about the price of University-owned accommodation increasing pretty drastically year on year, with the last accommodation option below £100 per week being scrapped. See my comments in the Badger and the Tab on the need for prioritising alternative cheap accommodation provision, and not excessive expansion of development projects on campus.
Students vote to boycott and divest from Barclays!
Picture above: A chart of the Student Sustainability Committee votes for Divest Barclays motion. 12 voted in support, 0 opposed, 0 abstained.
Together with Becca Finney (campaigns and environmental lead at SU) and officers, I've worked on creating the agenda for the first meeting of the Students' Sustainability Committee this term. Last Friday, we brought a motion created by the People and Planet campaign for the SU to stop banking with Barclays and boycott it until it stops financing fossil fuel projects (Check out People and Planet website for all the gruesome stats about these climate- wrecking ghouls!). This passed with a massive majority from the 12 committee members, and led to lots of good discussion on how we want to implement it, along with an ethical banking policy change. It was then passed on to Union Council for scrutiny and further discussion. It has been such an exciting moment to put our ethical and environmental principles in action using these democratic processes! It is a long process and still needs to go through the trustees meeting, but it is the first step for this campaign to roll out across our University and at other Students' Unions as well…
Supporting Food Waste action
Picture above: Roseanne writing on a chalk board. From a few months ago, joining Food Waste Cafe for their stall in Falmer Quad
I've invited the student society, Food Waste Cafe and Brighton and Hove Food Partnership to talk about their campaign on tackling food waste in the city at the Students' Sustainability Committee meeting. Our Food Waste representative is going to be attending the upcoming council meeting on tackling food waste in the city, and there are plans for linking up for Food Waste action week on 1- 7th March. I've also have been attending Food Waste Cafe meetings about ideas for lobbying for a community kitchen and fridge on campus. There are also plans to start up again the surplus food distribution weekly stall on campus. Do go along to their weekly meetings at 4pm on Wednesday to get involved.
Bills n Thrills!
(officially the worst event name ever)
Understanding bills, and switching energy suppliers as a student is super confusing. Together with the Green Energy Renters campaign and SU events team, I've been organising an event in collaboration with Brighton and Hove Energy Saving Coop (BHESCO) on how to read energy bills and how to switch energy providers to cheap and sustainable ones. This is going take place on 17th and 25th February.
Planning Climate Justice Week (22nd — 29th March)
We voted to change the name of Go Green Week to Climate Justice week to reflect the focus on both individual and system change responses to the climate crisis. We are having weekly planning meetings. Decolonise Sussex have been attending along with Sussex based academics from the The World Environmental History Centre who are part of a worldwide Activist and Academic network. We've been talking about how to embed anti racist thinking and organising to the week. This will hopefully lead up to two days of action that coincides with the COP26 Coalition direct action and mobilisation event on 27th/28th March. We are in the process of creating a form for student societies to fill in for session ideas. (pls DM me to get the link for the meetings!)
Dealing with Park Village campus accommodation maintenance issues

Picture above: Zoom meeting screenshot. Meeting with Brighton SU officers
I had a meeting with some people from the housing department, to raise discuss ResLife event collaborations, and how students can raise concerns about maintenance issues. This came out of conversations with some current residents of Park Village, within the Affordable Housing Campaign group part of the Sussex Renters Union on pest control issues. The housing department responded on the need for checking this out quickly, and are doing good work on the 'reporting a housing problem' page, to make it really clear how to raise these sort of concerns, and I am following up with the students who contacted me about this. I've set up monthly meetings with the housing department, myself and the SU advice centre, so please email if you want anything raised here.
Transform Sussex and Student movement action & learning
I haven't been able to be as active as I would like in this space, but I've been attending meetings from the Sussex Renters Union, and meeting SABB's and academics across the country to talk a bit about the next steps for student movements. I had a particularly interesting call with an academic who has been involved in and is researching the student movements in the UK and Chile over the last decade. I'm hoping to invite him to speak at Sussex as part of the Transform Sussex events programme.
I also met with Alice Flora, the Welfare officer at the Students' Union at the University of Cambridge, to catch up and exchange what we have been up to and ideas for this term. It has been really inspiring hearing about all what she and the team have been up to, especially around opposing the Russel Groups' rejection of No Detriment policies.
I attended a brilliant session on the book 'Pedagogy of the Oppressed' by Paulo Freire, and heard from great speakers putting this thinking into action, and using education for liberation, and community organising , you can watch it back on facebook live — I highly recommend!
Advocating on the Long Covid impact on young people
A few weeks ago, I took the leap and wrote down a bit about my experience with "long covid", and some thoughts on the need for a radical politics of care. My previous lecturer Ben Rogaly approached me to ask if he could feature my piece in the reading list for Week Two on the module, Class Community Nation, looking at 'coronavirus capitalism' and communities of care that have sprung up in response to the pandemic. This was really special to be included in conversations on collective care (on my favourite module of University!) The week before last, I spoke to BBC Radio Sussex about my experience and the dangerous impact of trivialising the short and long term effects of the virus on young people (transcript). I have also written to the University management about how to better sign — post this in the exceptional circumstances web page, and the access to the South East long covid clinic through the campus doctors surgery.
LGBTQ+ history month shoutout!
This week I'm looking forward to joining events from LGBTQ+ history month. There are loads of events to choose from film screenings to talks and cabaret shows.
***Take care everyone. I received an amazing handmade card from a good friend Mary- Jane that reminded me of why we rest, reach out to one another, and resist this alienating time.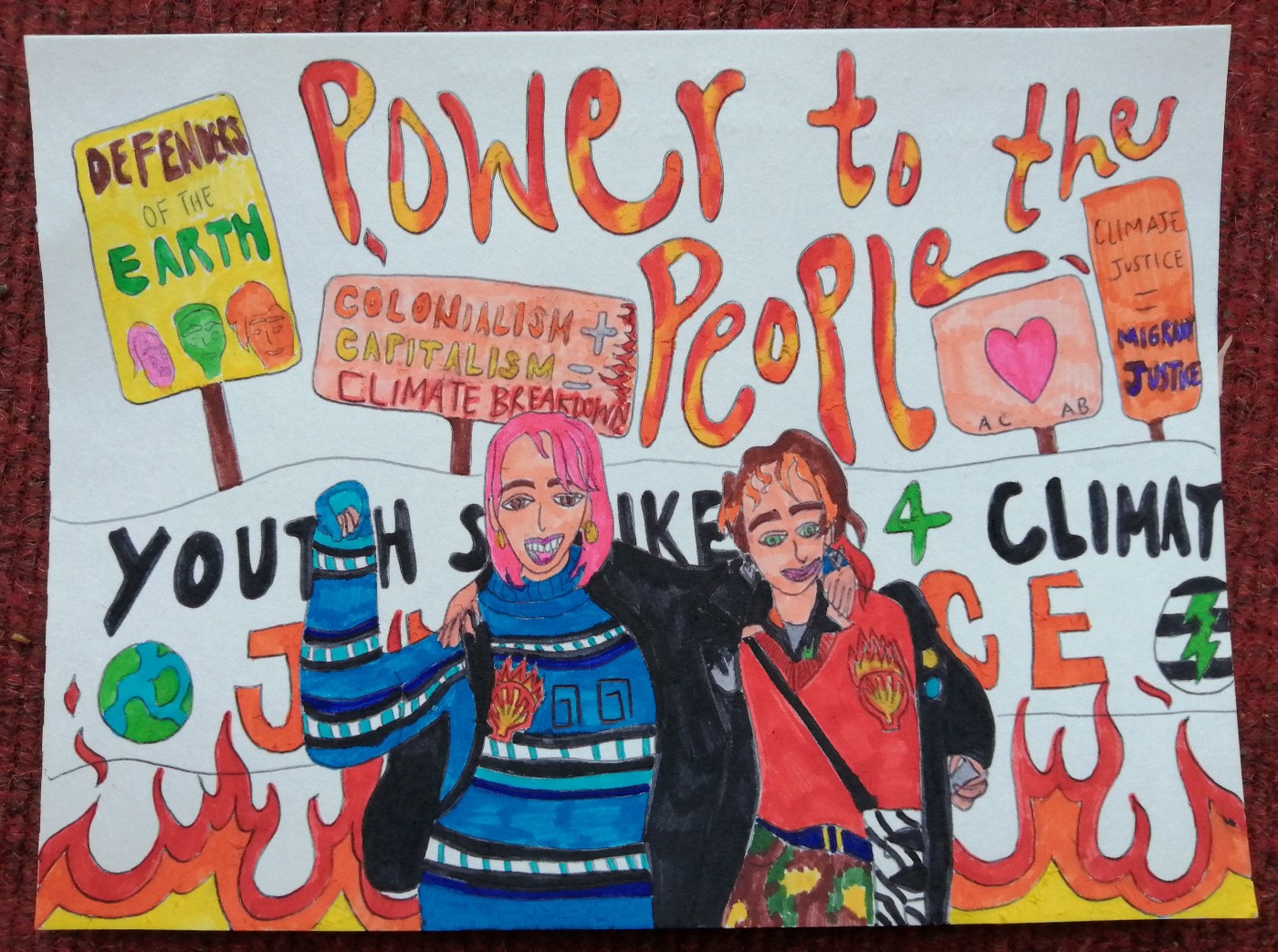 Picture above: Handmade card drawing of Roseanne and Mary- Jane at the Youth Strike For Climate protests in Brighton last year
This blog was originally posted on Roseanne's Medium.
---
Tweet